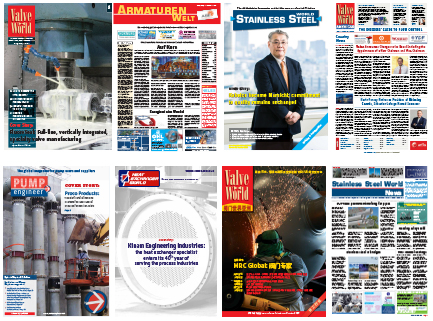 Despite the online revolution in recent years, printed media still has a firm place in our industries. KCI therefore publishes trade magazines (technical and in-depth information), newspapers (market news and business information), special publications and industrial reports.
The print portfolio includes global publications in English like Valve World Magazine, Pump Engineer Magazine and Stainless Steel World Magazine.
For the German-speaking market, we produce the trade magazines Edelstahl Aktuell, Armaturen Welt and Pumpen Aktuell.
Chinese readers are being served with the Chinese language Valve World Asia Magazine.
Valve World AMERICAS Journal and Stainless Steel World AMERICAS Journal are published via our office in Toronto.
Also reference books like the Valve World and Stainless Steel World Procurement Reports, as well as the Flow Control Yearbook, and the Flow Control Yearbook Asia are published annually.